Pro Rider -Gelcoater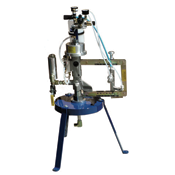 MVP's Pro Rider Gel-Coater is the ideal gel-coat system for all operations large or small. With over 20 years of proven reliability, MVP combined their knowledge and experience to offer the Pro Rider Gel-Coater with their EMG-1000 external mix gel-coat gun.
The MVP Pro line offers the lowest volume output on the market for small to midsize production facilities. The reliable, time-tested 2-inch stroke of the famous V-Pro pumping system, featuring an integrated power head & fluid section, has proven itself in production facilities around the world for decades. Thousands of operators over the years have benefitted from these highly reliable, compact, efficient material dispensing systems.
All Pro units feature the new V-Pro 2000 high speed reversing valve, which delivers smooth change over from top to bottom stroke…every time. The addition of the V-Pro 2000 to the Pro system is the latest evolution in Pro technology, making the famous Pro system even more rugged, reliable and efficient.
Pro systems are also versatile in their design and can accomodate internal mix FIT, solvent-free FIT, airless internal mix and airless solvent-free configurations.
A little history: These Pro Gelcoaters are the modern version of the famous MVP Pro Series gelcoaters. The "new" Pros features many of the same great components and benefits of the Pro Series line, but are configured on a standard mast with floor mount, or a mast and cart for portable models.
The modern Pro line can be configured to suit your production needs. Heated or unheated, floor mount or portable, FIT, airless, solvent-free…just tell us what your output needs are and let us help you design the perfect low volume Pro unit for your operation.