Laminating Rollers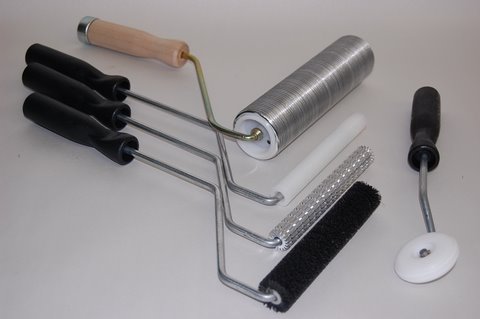 For open mold laminating:
* Exclusive one piece "thin fin" design…engineered to roll out air
faster and easier than any other roller.
* Recessed head nut will not hang up and is easy to remove.
* Plated steel roller support for strength and durability.
* Wooden handles are durable and are easy to clean.
* All handles accept extensions.
BUBBLE BUSTER Roller:
1″x3″ #76533-1
1″x6″ #76534-1
PADDLE Roller:
1″x3″ #76555-1
1″x6″ #76566-1
1″x8″ #76557-1
1″ DIAMETER ROLLERS Aluminum:
1″x3″ #76505-1
1″x6″ #76506-1
1″x8″ #76507-1
2″ DIAMETER ROLLERS Aluminum:
2″x3″ #76508-1
2″x6″ #76509-1
2″x8″ #76510-1
2″x9″ #76511-1
DELRIN Rollers:
3/4″x3″ #76522-1
3/4″x6″ #76523-1
1″x3″ #76524-1
1″x6″ #76525-1
DIAMETER ROLLERS Aluminum:
3/4″x6″ #76504-1
1/2″x6″ #76502-1
3/4″x3″ #76503-1
1/2″x3″ #76501-1
3/8″x3″ #76500-1
BARREL ROLLERS Aluminum: (For compound-concave surfaces)
1″x2″ #76526-1
1″x3″ #76527-1
2″x3″ #76528-1
2″x6″ #76529-1