Catalyst Dispensers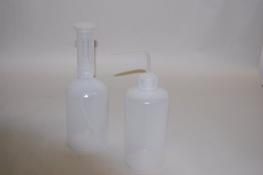 Adjustable Volume Dispenser
* Delivers up to 30 cc (ml.) of fluid accurately and safely in 5 cc (ml.) increments.
* Molded of high quality polyallomer.
* Unit disassembles quickly for cleaning.
* Dust cover included.
This dispenser has found wide use in the FRP industry to accurately measure fluids. The cup slides up and down to give a repeatable amount of fluid each time without spillage. A small amount of pressure on the 16 oz. polythylene bottle fills the cup above the hole in the tube. Releasing the pressure permits the excess fluid to return to the bottle.